Crisis Intervention Program
Homelessness Prevention
G.R.O.W. Foundation will assist with providing emergency hotel lodging at an unidentified location for up to 72 hours for survivors (and their children, if applicable) who are escaping abuse. This resource is aimed to promote safety and prevent homelessness in the event area domestic violence prevention agencies are unable to place the survivor and their family in shelter at the time of crisis. G.R.O.W. Foundation will then work with community partners to secure temporary shelter for the survivor or family in need.
Survivor Sustainability 
At G.R.O.W. Foundation, each client is paired with an experienced advocate who will offer confidential, individualized, and trauma-informed care to the survivor by way of providing emotional support, short-term case management, domestic violence education, resources, and service referrals.
G.R.O.W. Foundation also works to assist survivors in crisis who may be experiencing food, clothing, and personal hygiene insecurity. With the help of community partners, supporters, and donors, we can provide short term assistance with ensuring survivors are able to clean, clothe, and feed themselves (and their children, if applicable)—the basic needs that every human deserves to have fulfilled.
Counseling Program
'GROWing Fighters' is a private support group for domestic violence survivors ages 18+ and is open to survivors of any gender, gender identity, sexual preference, nationality, race, religious belief, or background. Offering a trauma informed and strength-based environment, 'GROWing Fighters' meets on the 3rd Saturday of each month and is jointly facilitated by Domestic Violence Specialist, Neisha Himes, and LPC Resident, Amanda Romero, who specializes in trauma counseling and cognitive behavioral therapy. Each meeting includes one hour of group counseling, followed by 45-minutes of an invigorating group boxing and fitness workout facilitated by MatchBout Athletic Development Center.
Register Today!
Community Outreach & Awareness Program
As you may have read in our mission statement, we pride ourselves on our commitment to advocacy through education, collaboration, and the empowerment of our community and beyond! We, at G.R.O.W. Foundation, believe that no voice is too small and that we all can make a difference in the fight against domestic violence.
G.R.O.W's Signature Outreach & Awareness Events
We Need to Talk
Bridge The Gap
Cameras Off: A Conversation With No Filter
Summer Daze Ice Cream Giveaway
Square Up: Surviving the Ring & Yourself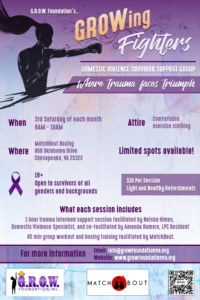 Want to know more about domestic violence, but not sure where to turn? Thinking about becoming an ambassador for awareness, but not sure how to start? Contact us today for more information on our "GROW-n-Go" domestic violence education workshops!
When Home Isn't Safe: Domestic Violence 101
#RelationshipGoals: Teen Dating Violence
If It Costs You Your Peace: Financial Abuse
The Art of Understanding Trauma
Pssst, while we have you—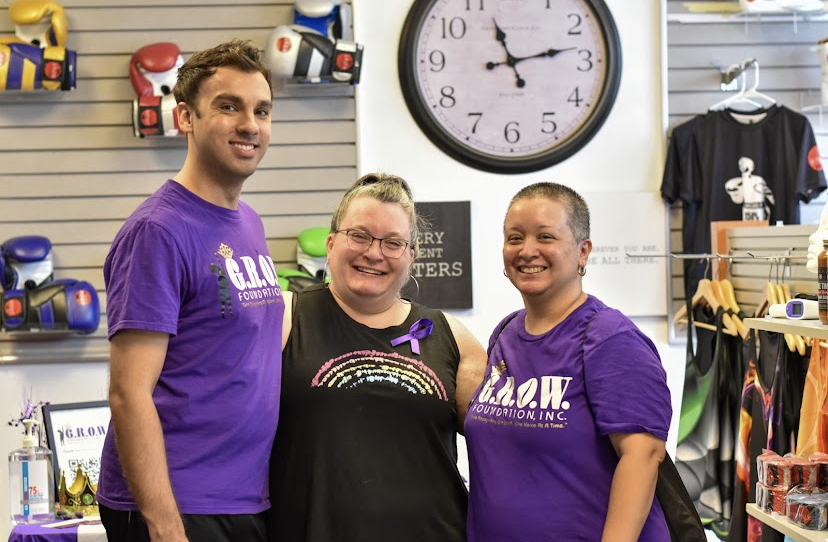 Don't forget to ask about our G.R.O.W. CARES (Community and Resource Engagement Support) initiative and learn how you can support us in our work to end domestic violence!
Volunteer & Intern Openings
Individual & Corporate Sponsorship Opportunities
Agency Collaborations